Why not be part of brand auctions in Japan?
06-6251-671710:00 - 19:00
NIPPON BRAND ADVANCED AUCTION (or NBAA for short) handles over 5,000 luxury brand items and jewelry pieces every month. These quality items are available for direct purchase.
The auction is open and accessible, with a large number of foreign traders registered. We are sure you'll find a lot of pre-loved items from Japan in good condition to suit your customer base.
Three key advantages of NIPPON BRAND ADVANCED AUCTION
01

Auction list is emailed the day before so that you can identify items of your interest.

02

Items are available for direct inspection on the day.

03

You can get items at the best price as you directly take part in the auction.
How it works
STEP 1

Register

STEP 2

Bid at auction

STEP 3

Pay for items

NIPPON BRAND ADVANCED AUCTION has a proven reputation
NIPPON BRAND ADVANCED AUCTION is one of the oldest brand auctions in Japan, having been in business for a decade now. It is a single-day auction offering a wide selection of items from perennially popular lines to new Hermes bags, held in a welcoming atmosphere.
In contrast to many auctions in Japan that are closed affairs, NIPPON BRAND ADVANCED AUCTION welcomes new comers, providing a safe and supportive environment for everyone to join in.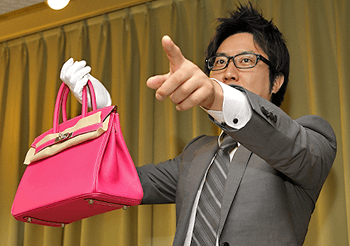 NIPPON BRAND ADVANCED AUCTION is also held more often than most others, providing plenty of opportunities to see and feel the many brand items on offer and hone your skills as a buyer.
NIPPON BRAND ADVANCED AUCTION is the perfect place to launch your career as a buyer in Japan!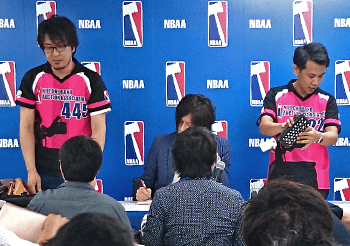 From a happy purchaser
Daniel Tatman, Chance Co., Ltd.
I've been going to NIPPON BRAND ADVANCED AUCTION for two years now. The auctions go at a good pace?not too fast or overwhelming?so it's easy to get involved and get the things that you want.
There's a huge range of items on offer, including handbags, watches and jewelry, and I find myself buying lots of new stuff all the time.
I never had to worry as the auction staff are very friendly and they get back to us right away on any queries I made. Goods are always delivered immediately.
Also, the auction house is friendly and welcoming, a great place to make connections with other traders.
I would definitely recommend NIPPON BRAND ADVANCED AUCTION as a place to do business.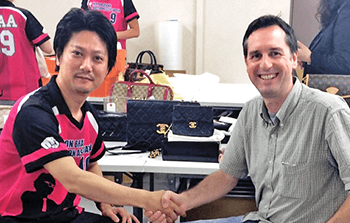 FAQ
Q1.Can non-Japanese buyers take part in the auction?

A.Yes. Anyone with a second-hand dealer's license can join up and bid for items at the auction.
(Note: All applications are screened.)

Q2.How do I get a second-hand goods dealer's license?

A.You need to apply for the license at police station.We can arrange an agent ("gyoseishoshi": administrative scrivener) who can help you do it.

Q3.Is there a joining fee?

A.There is an initial joining fee of \30,000 (incl. tax)

Q4.Is there an admission charge?

A.The admission charge is \3,000 per person.

Q5.I prefer to have more time to consider my purchases.

A.A full list of auction items is circulated the day before. If you have any particular requests, or if you wish to inspect an item prior to the auction, simply let us know.

Q6.My Japanese is not very good. What should I do?

A.So long as you know the basic Japanese numbers, you will be OK. We have English-speaking staff who can help you with documentation and financial calculations.

Q7.How much is the commission?

A.Buyers pay commission of 8%. There is no commission for sellers; instead there is a cash-back of 3% - 4%.

Q8.Do you accept credit cards?

A.Unfortunately we are unable to process credit cards at the moment.

Q9.Do you accept payment in foreign currencies?

A.All payments must be made in Japanese yen.

Q10.How do I know the goods are the genuine articles?

A.We are a registered member of the AACD. You can be confident that all our items are genuine articles as we do not deal in fakes. In the unlikely event that an item is found to be not genuine, the item can be returned and your payment would be refunded.

Q11.I would like to send an item back home . How can I do this?

A.You will need to know the relevant customs procedures. Please do not hesitate to consult with us.